Last month, we gave you some reasons why you should give Microsoft Teams a try if you haven't already. This month, we'll give you a few simple ways to get started.
This isn't intended to be an all-encompassing overview of Teams. You can find that and much more on the Microsoft website.
Our goal is to provide some easy ways for a first-time user to dip their toes in and see what Teams has to offer without being overwhelmed. If that's you, great! If it sounds more like someone you know, feel free to send them the link to this post.
One quick note – you can access Teams from your desktop, web browser, or through your mobile device. For the sake of this post, I'm using the desktop app, but you'll find your experience through the web browser or mobile app to be pretty similar.
Start a Conversation
Need to talk with someone privately, discuss lunch with the office bunch, or have a conversation with the project team about an upcoming deliverable?  Teams can handle it. 
Simply select

Chat 

on the far left 

of the Teams interface.

 

Start typing the name or e-mail address of the person(s) you'd like to chat with at the top in the 

To

: 

space.

 

Type your message at the bottom and hit enter.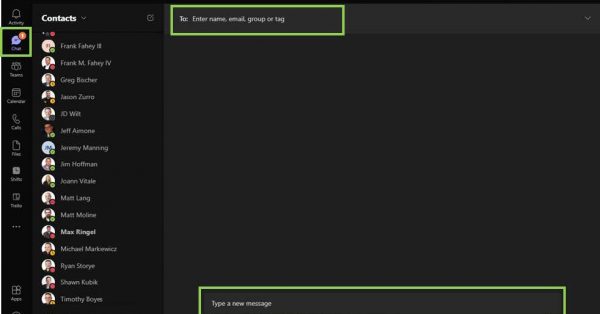 Any responses to your message will appear in the same window. 
One of the nice features about Teams is that any conversation you have with an individual or a group remains in the same chat box, so you'll have a running history of the current and previous conversations. 
Create a Team
A Team is a just a group of people organized together for a common purpose.  It could be a department, a project group, or even a party planning committee. 
On the left side of the Teams interface, at the bottom, click the 

Join or 

c

reate a 

t

eam

 button

.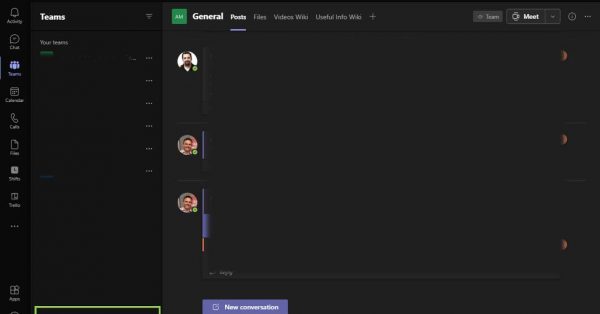 2. Click Create a team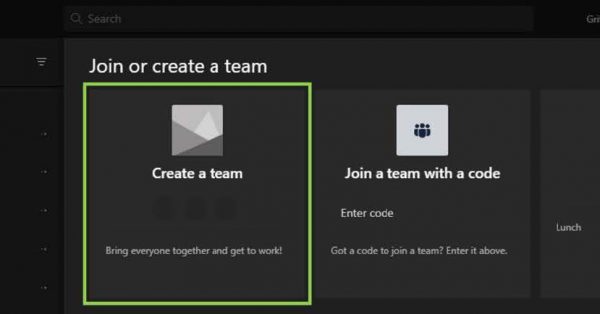 3. You can create one from scratch, inviting manually, or from an existing grouping of people (an e-mail distribution group).  They also have templates you can choose from for some pre-populated channels that might come in handy. 

4. Decide whether it'll be a private team (departments / projects) or public, that one that anyone in the organization can join. We have a public team called Lunch that we use when we're bringing in lunch for the team.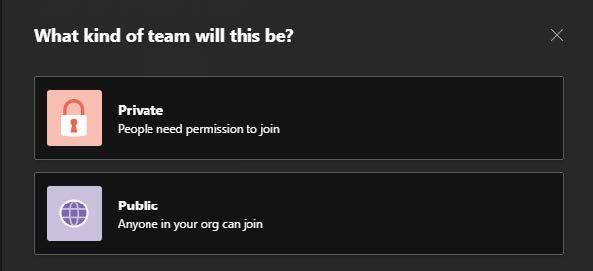 5. Name the team, give it a description if you like and hit the Create button.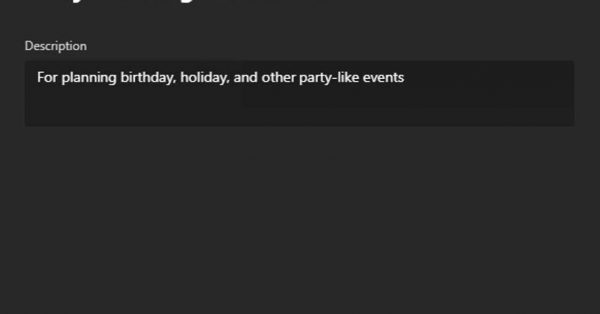 6. Lastly, add your Team members.

Congratulations, you just created your first Team!
Create a Meeting
Another one of the great features Teams provides is that it has your Outlook calendar built in. With the Teams interface, you can create meeting invitations (video or voice), add files for review or collaboration, chat before, during or after the meeting, and even take meeting notes. Let's get started.
1. With Teams open, select the Calendar icon on the left-side tool bar, then press the + New meeting button in the top right.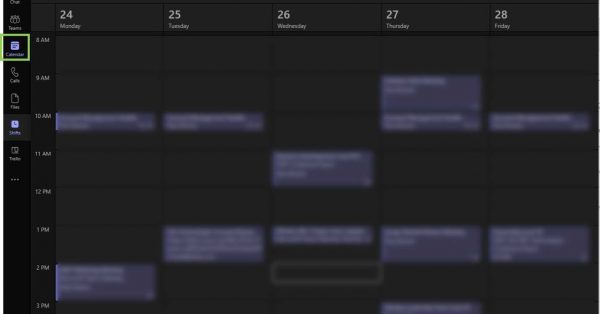 2. A New Meeting Details page will appear, providing opportunity to give the meeting a title, add invitees, and set the time and date. You can also set it up as a recurring meeting and add a location.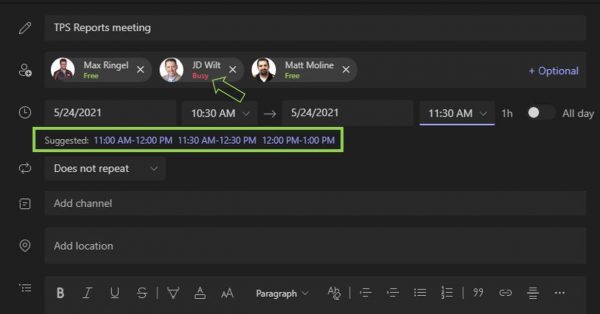 3. You can also see at a glance whether or not your invitees are open at that time. In the picture above, Max and Matt are free while JD is not.
You can use the Scheduling Assistant tab to find a time that works best for all invitees. If there are times that accommodate all schedules for the meeting duration proposed, Teams will suggest those times.
If there are no suggested times, you can either change the date of the meeting or change the meeting duration to fit the available openings.
It's always a good practice to make sure, before sending out the invite, that all members are free to attend. To make this possible, it's also always a good practice to keep your calendar up to date.
When you're satisfied with the invitation, don't forget to send it out.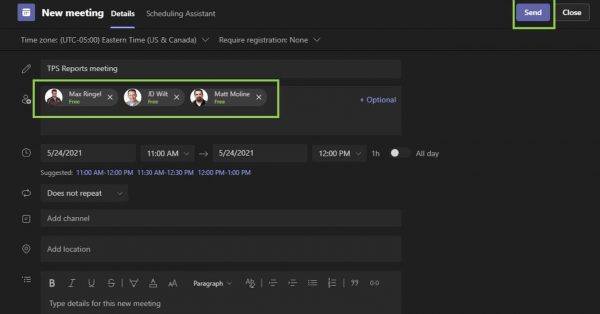 4. Once you set up the meeting, you can track who's accepted the meeting, chat with participants, add files, or even take meetings notes for review later.
When it's time for the meeting, you can click the Join button to join via voice or voice and video.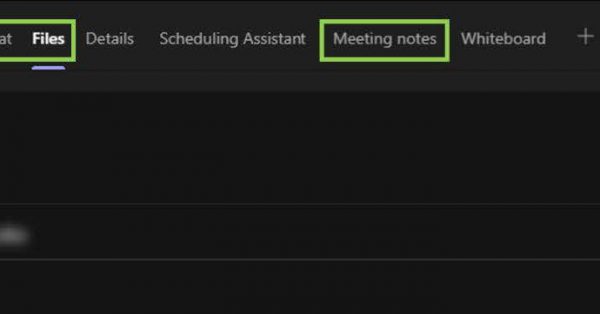 And there you have it – 3 easy ways to dip your toes in the proverbial Teams pool.
We just skimmed the surface of all the things you can do. There's a lot of good videos and resources you can search out to dive in a little deeper, but don't be afraid to explore on your own! The interface is easy to navigate and pretty intuitive.
If you'd like to learn more about how you can incorporate Teams into your environment, give us a call!